Edible flowers taste and look wonderful on your dish, particularly on your favorite salad. Not all flowers are edible, with photos available on the Internet. Please utilize your garden flowers only if you cultivate them organically – which means they are not subjected to pesticides or chemical fertilizers – or if you grow them in pots, away from pollution.
You may use flowers such as nasturtia or some beginning or blossoms of culinary herbs such as purples, sage flowers, and certain herbs, such as gorgeous and aromatic blue rosemary flowers and calendula petals. The flowers often taste like the leaves, however, some may be more spicy, such as rosemary. Also, don't use them in big amounts because they might create stomach issues. Use them sparingly or as a garnish in your recipes. Less is better.
This article focuses on my favorite edible flowers: nasturtium and calendula. Please remember that what is good for your body is also good for your brain. Your brain does not work in isolation. The healthier your body, the better your brain will function.
Related: Foods for Your Brain: Superfoods To Boost Your Mental Capacity
Edible flower for the immune system: Nasturtiums
Nasturtiums taste great and are packed with nutrients. Flowers of nasturtium come in many cheerful colors and contain vitamin C, which supports our immune system and might help fight fungi and viruses.
They also contain vitamin B, iron, magnesium, phosphorus, calcium, zinc, and copper, and have antimicrobial and some anti-inflammatory properties. Nasturtium plants are also used in alternative medicine in combination with other medicinal plants.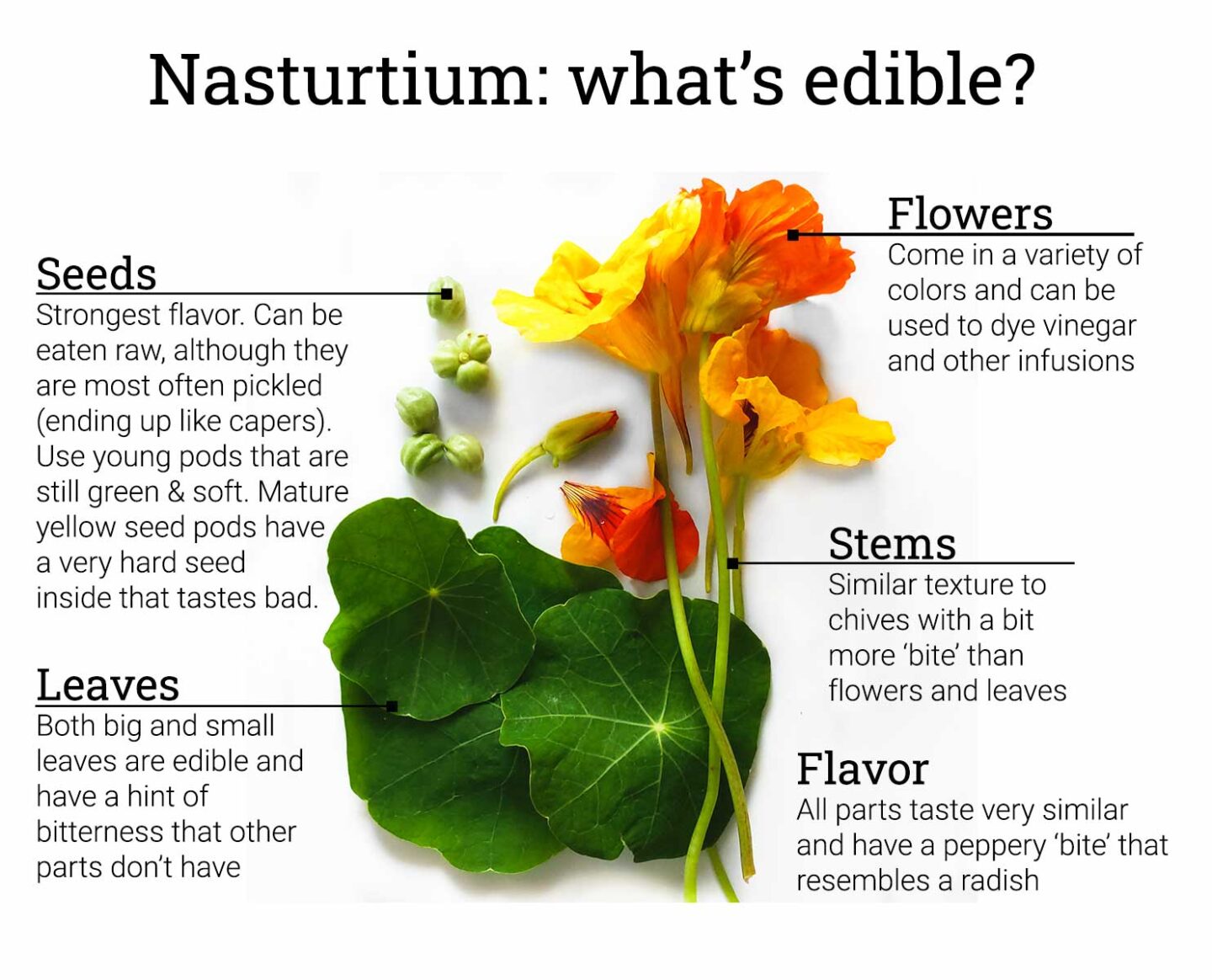 There is insufficient evidence in the literature for medicinal use, but we can still enjoy them in our summer dishes. They're easy to grow and can reseed themselves, but since they're frost-sensitive, you can only enjoy them outside up to the first frost. All parts of the nasturtium plant are edible.
The flowers and leaves have a somewhat spicy flavor. They taste great in salads and look beautiful on top of salads. You can also put them into soups and smoothies with other flowers like lavender, squash blossoms, arugula flowers, borage flowers, and calendula petals.
Perfect choice for beauty: Calendula
Calendula flowers bloom in shades of yellow and orange. The leaves and petals of this plant are edible. This is a very versatile plant that has been used in dishes and as a medicinal herb for centuries. It is a powerful antioxidant that has strong anti-inflammatory, antibacterial, antiviral, and antifungal properties.
It also helps with the digestive system and hydrates and nourishes the skin. It contains Vitamin C and E, carotenoids and flavonoids (both are antioxidants), polysaccharides, and essential oils. Calendula is FDA-approved for use as a culinary spice and also as an ingredient in cosmetics and a wound treatment. It soothes internal wounds and burns. However, it may cause your pollen allergy to get worse. So, if you have a pollen allergy, talk to your health care professional before you use it.
Related: How To Avoid Getting Tired: Herbs and Spices that Make You Feel Better
Calendula petals look great on the top of salads and add colors to other dishes. I use calendula petals in rice and grain dishes as well. Calendula plants are very easy to grow and will come back every spring.
Also, chamomile flowers have been known for centuries to have anti-inflammatory and anti-anxiety properties. However, the flowers are quite bitter, so use them in your smoothies; you won't taste the bitterness but will still get health benefits. Try some of the edible flowers in your kitchen and have fun with it.